Partial Dentures
The position, stability and number of natural teeth that you have remaining are only a few of the factors that help our denturist to determine what style or type of partial denture would be best for you personal needs. Partial dentures can be made of different materials, including acrylics, a metal/acrylic combination or flexible thermoplastics.
Cast Partial Dentures
are fabricated using metal frameworks which are stronger, thinner and can be designed for teeth to be added in the future (if needed). Cast partials are stronger than an all acrylic partial denture. Cast partial dentures are then combined with colored acrylic and teeth. Since the cast metal frame-works is made by an outside registered dental laboratory, the typical turn around time on the fabrication of a cast partial denture is approximately 2-3 weeks.
Depending on your dental needs and the health of your natural teeth we can discuss during your consult the possibility of an acrylic vs. cast partial denture.
Acrylic Partial Dentures
are fabricated used a material called methyl methacrolate that comes in a shade which mimics the color of your gums. These types of dentures can easily be relined, repaired and can have teeth additions made. Acrylic partial dentures can be fabricated with our without metal clasps depending on what is required in your specific case.
Thermosens & Flexible TCS Dentures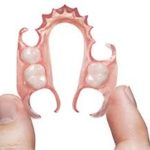 If you are looking for an alternative to cast partial or acrylic partial because of aesthetic reasons or allergies to those materials then a monomer-free material may be the solution for you. There are 2 options that we work with in terms of flexible material; both solutions are unbreakable and essentially disappears in the mouth; there is no worry about unsightly metal clasps showing. Thermosens is more ridgid than other thermoplastic flexible options, thickness of the dentur
es can be reduced in order to achieve more flexibility and thickened to create a more ridged area depending on your particular case. Thermosens material is very versatile – it can be used to create clear metal-free partial denture frame-works, create flexible partial dentures, full dentures and it can be used in implant retained dentures due to its strength. The benefit of this material in a partial denture is that unlike other nylon materials like TCS; additional teeth can easily be added to the denture if it becomes necessary.  Parada dentures is proud to be providing our patients Thermosens as an option on any of their dentures.
Ask us about the type of acrylic to be used on your denture or if you would like to discuss which partial dentures may be right for you, contact our office today to book your consultation.