Consults
We are happy to sit with you to discuss all your goals and expectations, answer all your questions. We will not only inform you of what is available but also provide guidance towards the products that would help best in achieving your desired smile that is also suited to your budget. We'll take everything in account from your lifestyle and oral history, to your eating habits!
Precision Dentures
Utilizes top of the line materials and precision techniques to create customized dentures. These types of dentures utilize advanced instrumentation whereby all your facial information is recorded to recreate the character of your smile. Premium denture teeth are utilized; these types of teeth more closely resemble natural teeth. A unique injection system is used to process these dentures which allows for better fitting dentures to be created.  The following picture depicts the difference between precision and standard dentures. With Precision Dentures you not only get a better fit but also a better quality Denture.
Standard Dentures
Uses basic materials, shades and teeth. They tend to wear a little bit faster than precision dentures as the teeth and materials used are standard.
Immediate Dentures
When complete extractions of your remaining teeth become unavoidable, an immediate denture is a solution. Our denturist will initiate this procedure before your teeth are extracted. An impression is made of your existing teeth and gums prior to the extraction surgery and is used as working models for the construction of your new dentures. From your models the denturist is able to copy and construct a denture, duplicating your original teeth with improvements to your appearance, if you so wish. Your denturist will consult with your dentist about your treatment plan and extraction date so that you will be able to walk out with your new smile!  At your extraction appointment, your immediate dentures are inserted and following insertion you will be closely monitored by your denturist.
Partial Dentures
The position, stability and number of natural teeth that you have remaining are only a few of the factors that help to determine what style or type of partial denture would be best for you. Partial dentures can be made of different materials, including acrylics, a metal/acrylic combination or flexible thermoplastics.
Cast Partial Dentures
are fabricated using metal frameworks which are stronger, thinner and can be designed for teeth to be added in the future (if needed). Cast partials are stronger than acrylic.
Depending on your dental needs and the health of your natural teeth we can discuss during your consult the possibility of an acrylic vs. cast partial denture.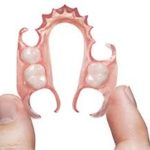 Acrylic Partial Dentures
material called methyl methacrolate that comes in a shade which mimics the color of your gums. These types of dentures can easily be relined, repaired and have teeth additions made.
Flexible TCS Dentures If you are looking for an alternative to cast partial or acrylic partial because of aesthetic reasons or allergies to those materials then TCS may be the solution for you.  The flexible material is unbreakable and essentially disappears in the mouth; there is no worry about unsightly metal clasps showing.
Implant Retained Dentures
Should you find yourself dissatisfied with the fit of your denture regardless of how many relines and how much adhesive you use on your dentures; implants may be your answer.Loose dentures can be remedied with the addition of implant anchors placed by a dental surgeon. Your Denturist will fit dentures over implants to provide stability, increased chewing force, reduced tissue irritations, and decreased bone loss.
Implant retained dentures are no longer financially out of reach for the average consumer. Our Denturist will help you in understanding the facts and procedures involved in implant dentistry.
Permanent Soft Liners
Do you have sore gums? Soft liners provide comfort and relief for individuals with severely receded or flat gums. If you have chronic soreness, gums with prominent or sharp bony areas soft liners act like a cushion which may give the denture wearer some relief and may allow for a more comfortable fitting denture. Used mainly for lower dentures, the soft base is a liner that is built into your denture prosthesis.  Your denture with soft liner should be checked annually to ensure continued comfort and replace when needed.  The soft base has a porous texture which makes it a material which is not so easy to clean. Our denturist can recommend cleaning agents which will be effective.